In 1935, the late Eugene Dean and the late Jack Flynn teamed up in the amusement park business (Dean & Flynn) in Salisbury Beach, Massachusetts. They combined their talents and business acumen to create wholesome family entertainment with emphasis on quality and the importance of fair play.
In 1950, the two showmen signed a contract to provide the carnival midway at the historic Topsfield Fair. Today, over 50 years later, Fiesta Shows continues as the exclusive carnival partner at the nation's oldest fair – entertaining over 500,000 patrons annually.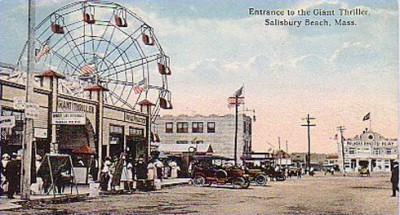 As the demand for wholesome family entertainment grew, so did Dean & Flynn. In 1967, Dean & Flynn purchased Fiesta Shows. Over the past few decades, Fiesta Shows has enjoyed remarkable growth and has become an annual tradition in scores of New England communities. Today, Fiesta Shows is the largest New England-based carnival in the business, and certainly, one of the biggest in the entire Northeast. Fiesta Shows owned over 100 amusement rides, from the traditional Merry-Go-Round and Tilt-A-Whirl to the Big Splash Flume Ride and thrilling Freak Out and Speed XXL.
Fiesta Shows is committed to creating safe and wholesome family entertainment for all of its patrons. We do this by offering the public the cleanest, safest, and most modern rides available. With a retention rate well over 90%, our ride operators are seasoned and well-trained.
Fiesta Shows' distinguished history in the gaming business allows us to set a standard that all our game concessionaires must follow. We believe the happiest customers are the winning customers and the winners will generate more players.
Front Gate Food operators are also closely monitored. In addition to local independent health inspections each week, we make sure food concessions are staffed with courteous operators who serve only quality carnival foods at fair prices.
Fiesta Shows also takes the responsibility to our sponsors, organizations, and committees very seriously. We work diligently to uphold every detail of our contracts and agreements with sponsoring organizations. The fact that we continue to enjoy repeat dates speaks for itself.